Learn why thousands of customers rely on Ace-data for Top-level Data Security Service
Meet your dual protection compliance on cloud
For most enterprises, compliance needs backups to be stored away from the primary site. It is safer as well. Any disaster within the Data Center or a complete building collapse and backups on the same site would mean unrecoverable backups. Traditional tape solutions forced organizations to ship their tape media offsite, on a weekly & monthly basis if not daily.
Our enterprise cloud backup solution takes your data off-site automatically. Any loss in the primary Data Center does not impact the backups stored remotely. Our customers enjoy the full flexibility of retaining local copies of the backup for quick recoveries. In the same job, the backup moves to a remote site with no user intervention or schedules required. Bandwidth optimized remote backups are the basis of our enterprise cloud backup solution.
Ace Data cloud backup solution for businesses gives them the basic disaster recovery by keeping the backups offsite.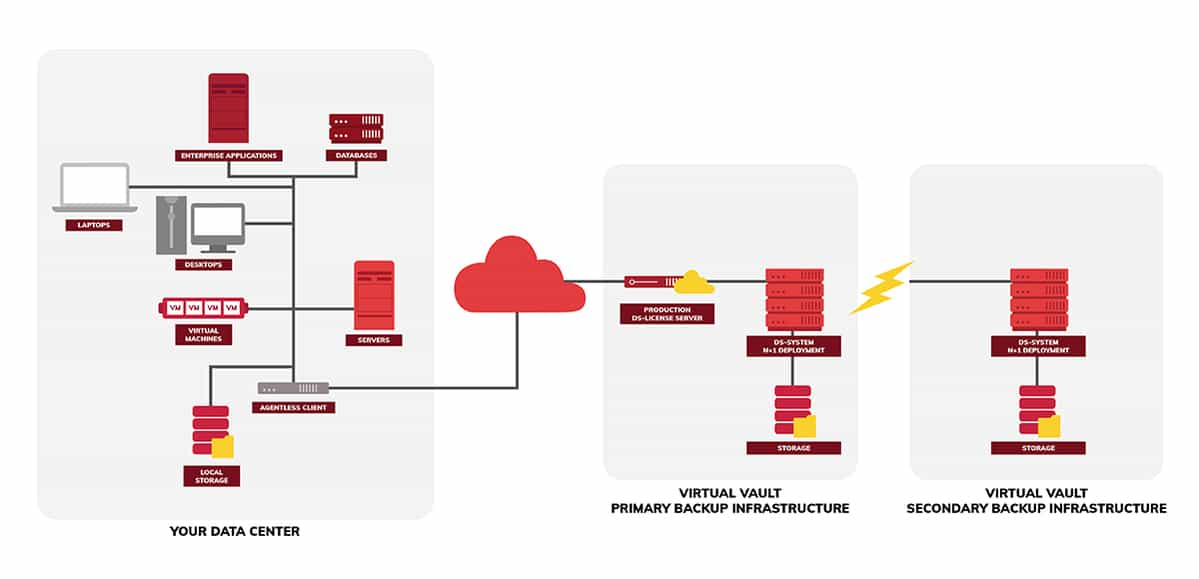 Replicate Backups to a Remote Site
Our enterprise backup solution has the inbuilt capability of replicating the backups to a third site also referred to as a secondary backup site. All we need to do is to enable the replication and the replication starts. You now have an additional site where your data stays protected.
Once enabled, our primary system starts replicating the backups to the secondary site over the network. Data Backup & recovery jobs are given priority, so every time a request comes in for a backup or a recovery, replication stops. It allows new incremental data to come in and then it resumes the operations once the backup/recovery request finishes off. No need to trigger any operation manually.
In event of a primary site failure, backups can automatically continue directly to the secondary site and recoveries can be done from the secondary site. When the primary site resumes, systems automatically sync between them and ensure the same set of backups are available on both sites.
None of these operations need to be manually triggered or monitored. They work automatically. You do not need to have identical setups on both sides and our enterprise backup solution does not need proprietary hardware to run its operations.
Our customers enjoy multi-site safety on two different infrastructure providers or different geographies to protect their data while meeting the compliance requirements.